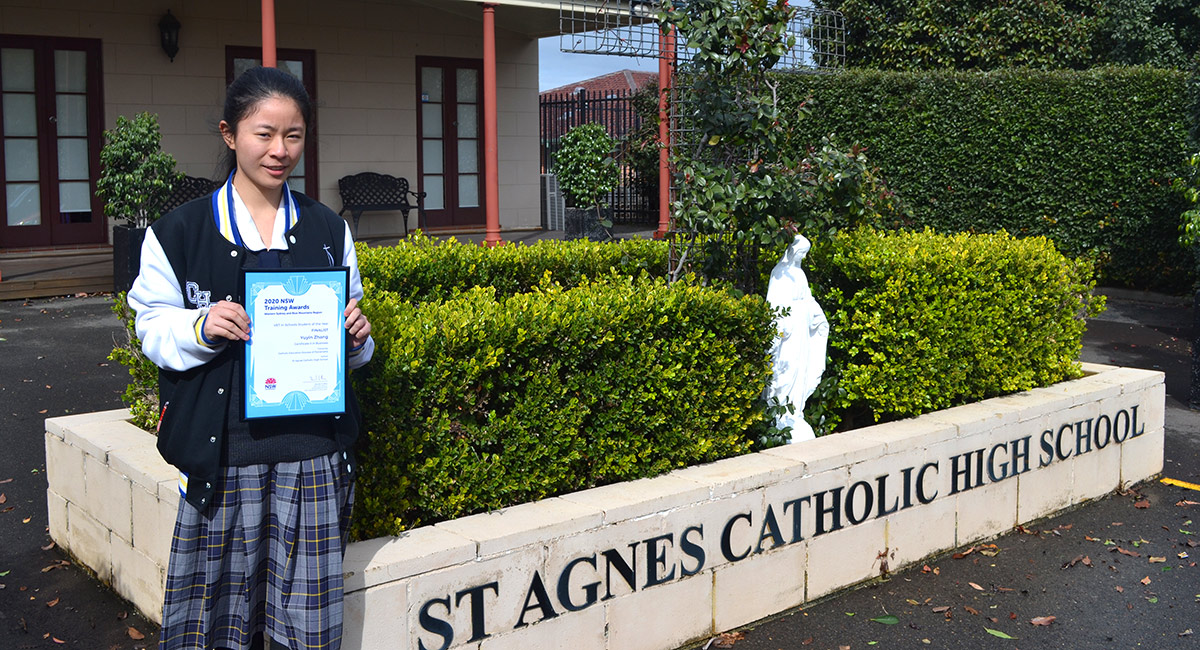 St Agnes Catholic High School student Yuyin Zhang has utilised a VET course to overcome significant hurdles
Despite the added complication caused by the COVID-19 crisis, St Agnes Catholic High School student Yuyin Zhang is achieving great things in her final year at school thanks to the support of her teachers and peers and a dynamic VET course.
In a year of mass disruption due to the COVID-19 crisis, students embracing Vocational Education and Training (VET) courses are finding it not only offers them alternative career pathways, it's helping develop core skills needed to negotiate their testing final years at school.
That has been the experience of St Agnes Catholic High School Rooty Hill Year 12 student Yuyin Zhang who was recently named a finalist for the VET in Schools Student of the Year Award at the regional 2020 NSW Training Awards (Western Sydney and Blue Mountains).
It's quite an achievement considering the intense competition and that English isn't Yuyin's first language, having only moved to Australia from China less than three years ago.
"The VET business services course has been great," Yuyin said. "It's different from other courses and really helps me with team building and communication skills and has really built up my confidence."
"I was very new to this country and English isn't my first language. I joined this course and my teacher helped me with my communications skills. We do presentations and talk freely to our peers in class. It helps me to process information, with assessments and research tasks - and that also helps with other subjects where I'm able to use the same skills."
It's that final point that has proved key to helping Yuyin at school, especially this year, with the added difficulties due to COVID-19.
"During Year 11 and 12, you really need to manage your time as you have different subjects that maybe you're good at or not. It's very hard to balance your life and study but business services really helps me manage my time," Yuyin said.
Skills picked up through the VET course (Certificate II Business) coupled with the support of teachers and peers at St Agnes has helped Yuyin thrive and gain confidence for the HSC and beyond.
"The whole school has been really supportive ever since I arrived," Yuyin added. "At first, I struggled to understand the language in class and so it was difficult to follow what the teacher was teaching us. But the school was fantastic. They had an English teacher who spent time with me each week and that made such a difference, just helping me with the classwork and everything that I didn't understand."
It is sentiment backed up by St Agnes Principal Lisa-Maree Browning and VET teacher Saroja Dass.
"Yuyin is among our first group of students to transition through years 11 and 12 at St Agnes and it's wonderful to see the success she's had," said Lisa-Maree. "It's testament to her dedication and the hard work of her teachers that she was named a finalist for the training awards"
"To be in the top four is amazing," Saroja added. "She works so hard. She bent over backwards to interpret and understand the questions. And it wasn't easy. Sometimes she had to go back and forth and use a dictionary to understand things properly. She really, really worked hard for this and we're all really proud."
Being at St Agnes also vindicated her parents' bold decision to send Yuyin directly to a traditional school.
"When I first came, I didn't go to a dedicated English school and my parents wanted me to go to a normal school, give it a go and see if I could keep up with the work," Yuyin said. "I definitely think that was better. Making friends was also really important to help me learn the language."
"My parents are so happy with how things have been going for me at St Agnes. They're happy that St Agnes has helped me a lot. It's very supportive. They give me a lot of help, even if I didn't always ask for it. They knew these things would help and they provided a lot of resources."
"I've made lots of friends through the business services class because we have the same sort of goals. By studying the same course, we're able to communicate more about what we want to do in our life and in the future."
Yuyin's journey highlights what can be achieved with good support.
"My parents were so excited because I didn't really expect to be named a finalist," Yuyin said. "This is a big success in my life. When I was young, I'd tend to sit in the corner and be quiet but this has changed me. It gave me the confidence that I was doing well at school and could also do well after school."
Four other Catholic Education Diocese of Parramatta students were also named finalists for the regional 2020 NSW Training Awards. In the same Western Sydney and Blue Mountains region, Jessica Libreri and Chloe Pelle (Certificate III in Early Childhood Education) from CathWest Innovation College McCarthy Campus were finalists for the School Based Apprentice/Trainee award with Jessica winning and progressing to the state finals. Arthur Sadek (Certificate II Hospitality) from Delany College Granville was a finalist in the VET in Schools award. Chantelle Gordon (Certificate II Business) from Emmaus Catholic College Kemps Creek, was a finalist for the VET in Schools award for the South West Sydney Region.
---
Discover what St Agnes Catholic High School Rooty Hill such a great school