The St Agnes uniform shapes an important part of our identity within the community and is very much a part of the St Agnes tradition.
Our uniform identifies the wearers as students of St Agnes and students should wear the uniform correctly, with dignity and pride at all times.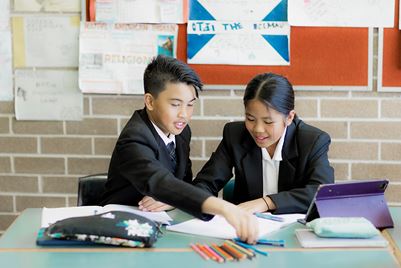 ---
Uniform Shop
The school uniform shop is managed by The School Locker and is open on Mondays between 8:00am and 12:00pm, and Wednesdays between 12:00pm - 4:00pm, during school terms only.
The Uniform Shop is closed during school holidays.
Online orders can be made by clicking the below link.
---
Payments
Payments of cash, Eftpos, Visa and Mastercard are accepted. We accept American Express (1.32% fee) and Diners Card (3.83% fee).
Prices are correct at the time of inclusion but are subject to change depending on manufacturing costs.
Please note that there are NO layby facilities available at the Uniform Shop.
---
How to Order
Orders can be made online and picked up from the shop on the school grounds. www.theschoollocker.com.au
For further information about uniforms, contact the School Locker on 8796 2100 or email StAgnesCatholicHS@theschoollocker.com.au.